K-Pop is a worldwide phenomenon: there are fans of K-Pop in Australia, America, and Canada, all the way to Nigeria, Argentina, and even Pakistan. As a Pakistani, I was very surprised when I learned of this!
When these K-Pop fans – who come from different cultural backgrounds – encounter Korean culture, they get easily excited about it's newness. In their excitement, they often confuse cultural appreciation with cultural appropriation.
What is Cultural Appropriation?
Cultural appropriation is, if you are unsure, stealing something from a culture without asking the people from that culture for permission, or acknowledging them in any way. It is an intense topic of debate these days because it seems like everyone – from Selena Gomez to Kylie Jenner to Katy Perry to Miley Cyrus, and even Beyoncé – is doing it. Black, culture, South-Asian culture, and Japanese culture are popular targets for cultural appropriation, but due to the rise of K-Pop, Korean culture has also joined the list.
Many people defend cultural appropriation by saying that they are "simply appreciating the culture,"  but there is a fine line between appreciation and appropriation.
Why is Cultural Appropriation Wrong?
Cultural appropriation is selfish and exploitative. Cultural appropriators steal elements of a culture and rework them for their own personal profit, without acknowledging the elements' roots in any way.
Above: Miley Cyrus is a perfect example of a cultural appropriator – she appropriated twerking, dreadlocks, and black music, but failed to stand up for BlackLivesMatter or discrimination that Black women in the entertainment industry face
Cultural appreciation is respectful and mindful. Cultural appreciators educate themselves before engaging in cultural practices, and honor the practices' history, culture, and people.
Above: Chrissy Teigen is a good example of a cultural appreciator. During her trip to Indonesia, she only wore traditional Indonesian attire after being invited by locals to do so, and acknowledged and credited the locals in her Instagram caption.
K-Pop's increasing popularity – even in western markets, as evidenced by K-Pop boy-group BTS winning a Billboard Music Award earlier this year against Justin Bieber – has put Korean culture at the world's forefront. Appropriating Korean culture has become the new 'trend' and when someone appropriates Korean culture, they are – as I mentioned in this post – known as a Koreaboo.
What does a Koreaboo do?
Koreaboo is a term derived from the word weeaboo, and describes non-Korean people who become obsessed with Korea and Korean culture, usually after having been introduced to K-Pop and K-dramas.
Koreaboos usually use random bits and pieces of Korean that they have learned through K-dramas, in their everyday, Non-Korean, conversations. Koreaboos sometimes give themselves Korean names and wear traditional Korean clothing. Koreaboos almost always idealize Korean men and women, gush about wanting to date people of Korean background, and fantasize about moving to Korea.
Koreaboos are obsessed with their fantasy of South Korea and its people, uncaring of the political and cultural problems they may face. Though not all K-Pop fans are Koreaboos, nearly all Koreaboos are K-Pop fans.
How to not cross the line into appropriation?
Step 1: Avoid Accessorizing
Koreaboos often begin appropriating Korean culture by accessorizing the Korean language. This means randomly peppering Korean words and phrases in Non-Korean dialogue.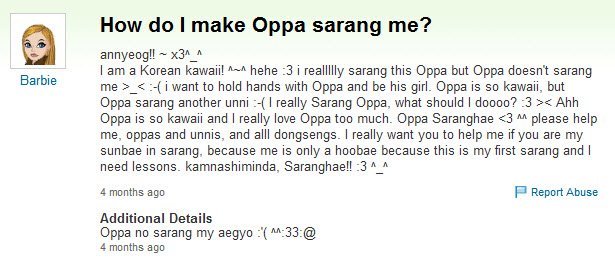 Koreaboos then take it to the next level and try to wear traditional Korean clothing like hanboks. Due to their lack of familiarity with Korean culture, sometimes they even confuse Chinese and Japanese clothing – like qipaos or kimonos – with a hanbok!
Saying saranghaeyo ('I love you' in Korean) and other random Korean phrases in a conversation that is not in Korean, is a bastardization of the Korean language. Treating clothes like hanboks as any other piece of clothing is disrespectful because they have a lot of significance and history in Korean culture. Both these actions reduce parts of Korean culture to accessories used to look cultured.
I'm sure there are equivalents of saranghaeyo and other Korean words in your local language – use them instead! If you really do love the Korean language, take a Korean class and ask natives if you can practice with them. Wear hanboks and other culturally significant clothing only if a Korean friend has invited you. Don't reduce Korean culture to an accessory!
Step 2: Stop Fetishizing
After accessorizing, Koreaboos start gushing about Korean people and how beautiful they are. There are so many K-Pop fans who, after getting into K-Pop, suddenly start crushing on or wanting to date every Korean boy or girl they see just because they're Korean. Sometimes the boy or girl doesn't even have to be Korean, they just have to be East-Asian.
Koreaboos also start wishing they could move to Korea, or that they were Korean, just so they can date Korean people. I've – and I shudder as I type this – read many stories where Koreaboos have followed people around just because they are Korean, or have gone to Chinatown/Koreatown in their cities to ask out Korean/East-Asian people.
This is called fetishizing and is just gross. There is no justification for wanting to date somebody only because they belong to a particular race/country.
If you find yourself wanting to approach a person of Korean/East-Asian descent, first ask yourself why you want to date them? If the only reason is that they're Asian/Korean, stop! Go home! Learn to like people for who they are instead of the preconceived image you have of them in your head because they're Korean/East-Asian!
Step 3: Start Realizing
Koreaboos often defend their cultural appropriation by claiming that they only do these things because they "love Korean culture and Korean people so much!"
Despite their love of Korean culture, however, Koreaboos never speak about the issues that affect Korean and East-Asian people when there are so many to choose from.
The desexualization of Asian men in North America, the 'timid-schoolgirl', 'dragon-lady', and  'geisha-girl' fetishization and exoticization of Asian women, the 'model-minority' myth, Hollywood's constant whitewashing of Asian characters, and the damaging 'they all look the same' narrative – among other harmful stereotypes – are all very pressing issues that Asians face. According to Koreaboos though, Asians have perfect lives!
Koreaboos  – and cultural appropriators in general – want all the good parts of the culture, and none of the bad ones.
Koreaboos need to start realizing that if they want to immerse themselves in a culture, they have to embrace the problems and issues of the culture, too. They have to be an ally and amplify cultural voices because this is not kindergarten – they can't just lick the icing off a cupcake and then throw the cupcake away.
As I mentioned earlier in this post, there is a fine line between cultural appropriation and appreciation, and the line is made up of a person's intentions and attitudes.
If someone tells you that your actions are offensive towards their culture, don't brush them off. Listen to them. It is important to know if you are doing something hurtful so you can check yourself before you wreck yourself.
What are your thoughts on cultural appropriation? Do you disagree with any of my points? Which ones and why? Tell me  in the comments below!
(© Header)